As parents and professionals in the 21st century, we find ourselves surrounded by technology. Some of the best selling technology is related either directly or indirectly to electronic games. Many children and adolescents find electronic games to be engaging and reinforcing.
Interacting with and manipulating electronic gaming technology in an appropriate and meaningful manner requires a basic set of communication skills, gross and fine motor skills, and cognitive-affective skills. The growing popularity of multiplayer games makes these communication skills increasingly relevant..
We take advantage of these attributes and use electronic gaming technology as part of our practice of psychology. We teach parents and professionals how to effectively incorporate electronic gaming technology into parenting and intervention plans.
How we are using electronic gaming technology today.
The first documented case of play therapy was in the early 1900's when Sigmund Freud recommended play to the father of a 5 year old patient named "Little Hans." Since that time, play has been used to assess children, teach them empathy, and address emotional as well as behavioral issues.
The first commercially successful use of video game technology was arcade games, such as Atari Pong, released in 1972. Video game technology for the home began appearing in 1975, with the development of console-based games. Present day examples include Microsoft's Xbox 360, Sony's Playstation 3, and Nintendo's Wii. Handheld video games first appeared on the market in 1976, and eventually evolved into products like the Nintendo DSi and the Sony PSP, and now are moving into cell phones and iPods. The use of personal computers as a platform for video game technology did not gain widespread popularity until the 1980's.
In 1992, while doing post-doctoral work as a psychotherapist at a residential facility in Philadelphia for children and adolescents with disruptive behavior disorders, Dr. Brian Moyer took on the challenge of engaging residents who were unwilling or unable to engage socially. With few resources beyond his laptop computer and computer games such as Monopoly, Wheel of Fortune, and Wolfenstein 3D, Dr. Moyer blended personal computer (PC) video games with therapy as a way of overcoming resistance to the idea of therapy and the stigma that can be attached to it. Playing video games with the residents helped Dr. Moyer establish a trusting relationship with his patients and, thus, improving treatment compliance.
Dr. Drew Messer began integrating video game technology into the practice of psychology in 2001 while serving on active duty with the United States Navy in as a Postdoctoral Fellow in Child Psychology at the University of Oklahoma. He started using hand-held video games as a distraction tool for patients undergoing medical procedures in the Hematology-Oncology Clinic. When that proved to be an effective technique, Dr. Messer began using structured group play of console-based video games in 2002 to serve elementary and middle school students with childhood developmental disorders (CDD's) on an overseas military base. The school-based programs were a fun way to build trust, communication, and relationships with peers and relationships with peers by involving multiplayer video games structured to promote cooperative play and communication with teammates.
In 2006, the school-based video-game program was modified and offered at a commercial electronic gaming establishment in Amherst, New York. While the initial focus had been on facilitating appropriate peer interactions during group play with video games, the new program included exercises for use before and after game play to facilitate the learning of social and coping skills, and incorporated trained college student volunteers who would socially model and reinforce appropriate behavior during game play. In addition, the new program offered a parent support group, led by Mrs. Liz Messer LCSW, which ran concurrent to the children's gaming group.
The Use of Electronic Games in Therapy:
a Review with Clinical Implications
H. Lynn Horne-Moyer & Brian H. Moyer &
Drew C. Messer & Elizabeth S. Messer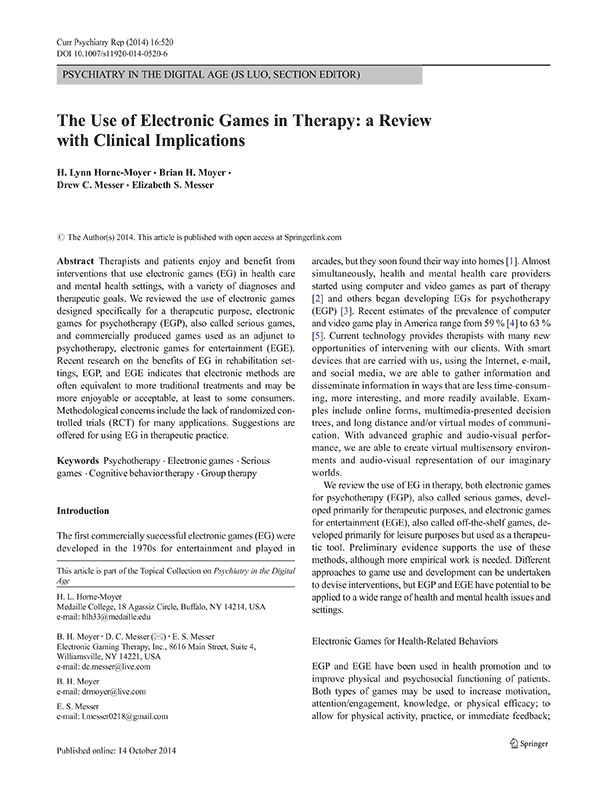 Click the above image to read the entire article.
Video Games & Therapy
Your Next Psychologist May Prescribe 'The Legend of Zelda'
Article featured on Mashable.com
EGT City Tour Port

Podcast on The Psychology of Video Games Website
Podcast 24: Using Video Games for Therapy
Podcast featured on PsychologyOfGames.com
Handout from APA Conference San Francisco 2018
APA Handout San Francisco 2018